---

Accommodation

---

Facilities

---

Resort information
Sheraton Fuerteventura Beach & Spa Resort
This luxurious hotel is located in front of a golden sandy beach. In the area, guests will find a shopping centre with restaurants, boutiques, and cinemas, and there are public transportation links 300 m away. Bars and a nightclub can be found approximately 2 km from the hotel. This is an ideal place for a relaxing holiday under the warm Canary sun.
This hotel now offer their guests free standard Wi-fi in all rooms.
Address:
Avda. Las Marismas 1
35610
CALETA DE FUSTE - ANTIGUA
ES
Board Basis
Full board basis *
Half board basis *
Notes
* indicates service is at extra charge
Caleta de Fuste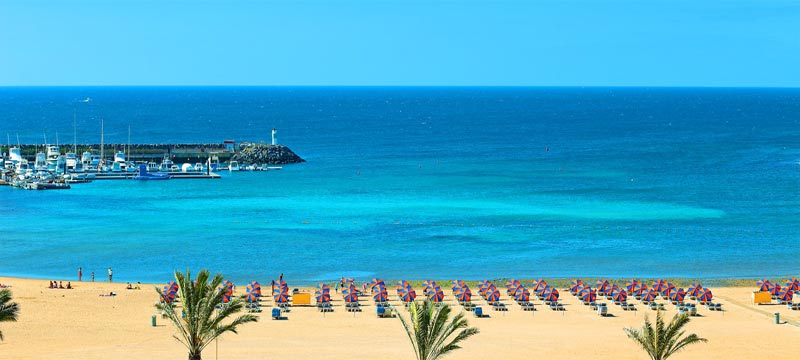 Caleta de Fuste Holidays: Purpose built and geared for pleasure and relaxation, Caleta de Fuste is still relatively new on the tourist trail. The resort is only about 20 years old and, whilst there is infrastructure, it is yet low key and all very laid back and is really quite typical of Fuerteventura's holiday resorts.
Located almost halfway down the east coast of this lesser known Canary Island, the beaches are safe and the waters clean and clear as glass. Caleta (meaning "cove" in Spanish) has been created around a natural cove where the shore shelves gently. Fuerteventura holidays here, and also in the resort of Corralejo, are child friendly and the beaches are great for families where swathes of sand (although largely imported) are super soft and fine underfoot.
An 18th century watchtower or "castillo" is a pretty landmark in the resort. Casual, informal and restful, Caleta de Fuste is not a hotspot for discos or wild nightlife, rather the resort caters more to family style entertainment with romantic restaurants and cosy bars. Perfect for those who enjoy dining out, there are lovely local eateries in Caleta and plenty of international establishments serving fine fare. You'll be spoiled for choice.
There are no flights to Caleta de Fuste, but regular flights to Fuerteventura airport directly from Ireland ensures easy access ot the resort and ClickandGo provides good accommodation options in the area.

Send me this quote
*Remember, the price on this quote is only vaild at a time of it's request. We can't guarantee that this price will stay this low as this is real time pricing and it may change