City Breaks to Krakow
Like a piece of great art, Krakow could be considered a Polish masterpiece. A city full of history, but thankfully, never mortally wounded by war, its stunning architecture remains intact and the wonderful Gothic, Baroque and Renaissance structures remain untouched.
The Old Town district with the amazing Wawel Castle is brimming with atmosphere and no surprise that, in 1978, it featured as the first of its kind on the list of UNESCO World Heritage sites. Outside the Old Town, the Jewish Quarter with its silent synagogues also hearkens to the tragic past. Nowadays, Krakow is vibrant, bustling and truly alive. The city boasts a vast array of museums, public art galleries (the Old Town is home to more than 2 million works of art alone!), theatres, concert halls and Opera House.
When you visit Krakow, you will feel the energy, the atmosphere and the flavour of this medieval yet thoroughly modern city. A place of great restaurants, marvellous open air coffee houses and outdoor terraces, cafe culture is alive and very well indeed! Nightlife is buzzing with pubs and clubs littering every narrow artery in the city. The dinky Christmas market is also a legend in its own lifetime, so Krakow is surely a city for all seasons.
---
Did you know...?
It's believed 1 of the 7 Earth Chakras lies at Krakow's Wawel Hill
There are 6,000 historic sights with Krakow's Old Town
Kraków's Market Square is the largest medieval commercial square in Europe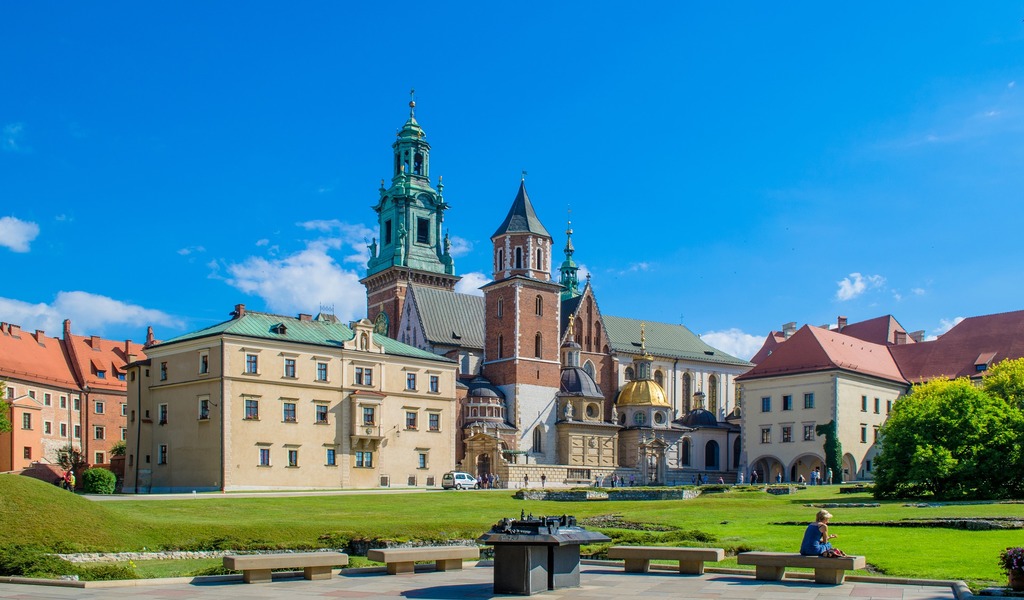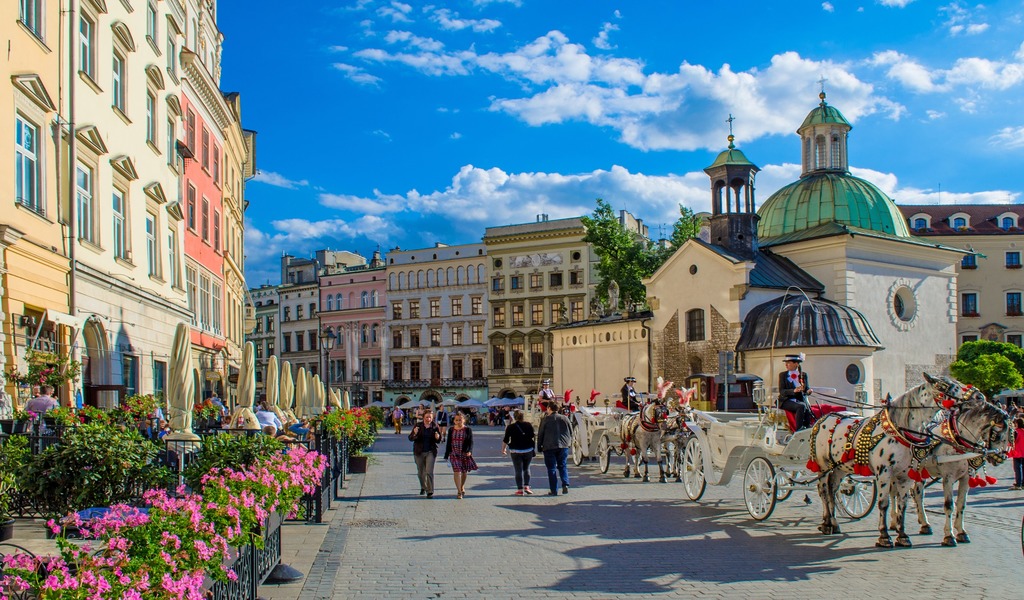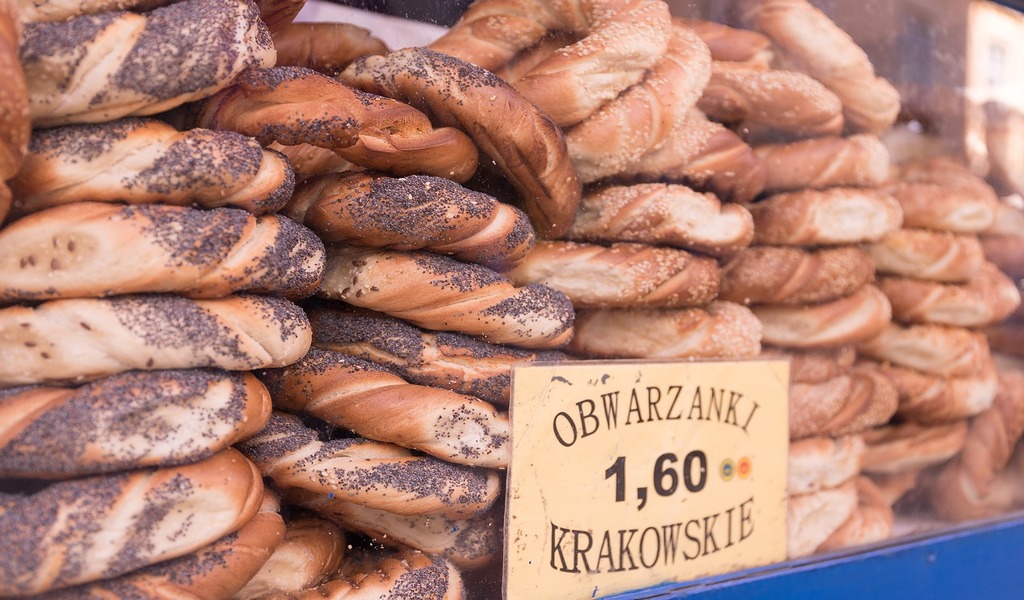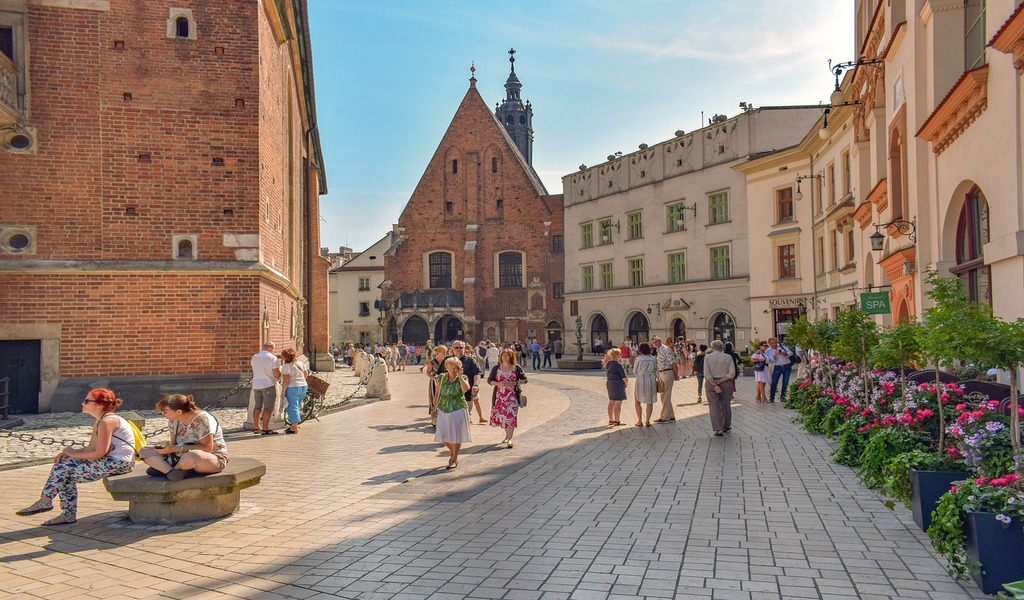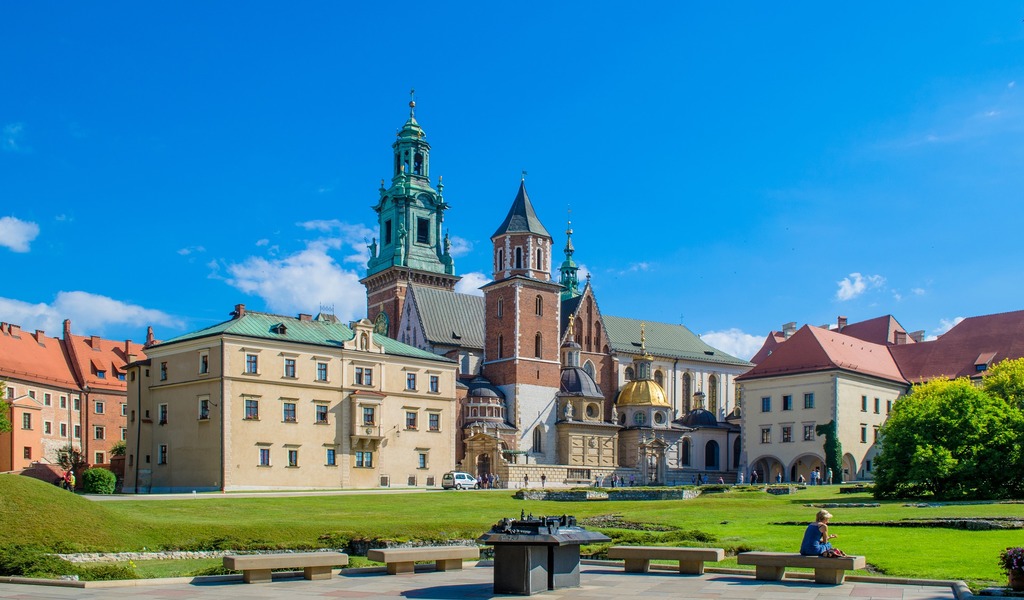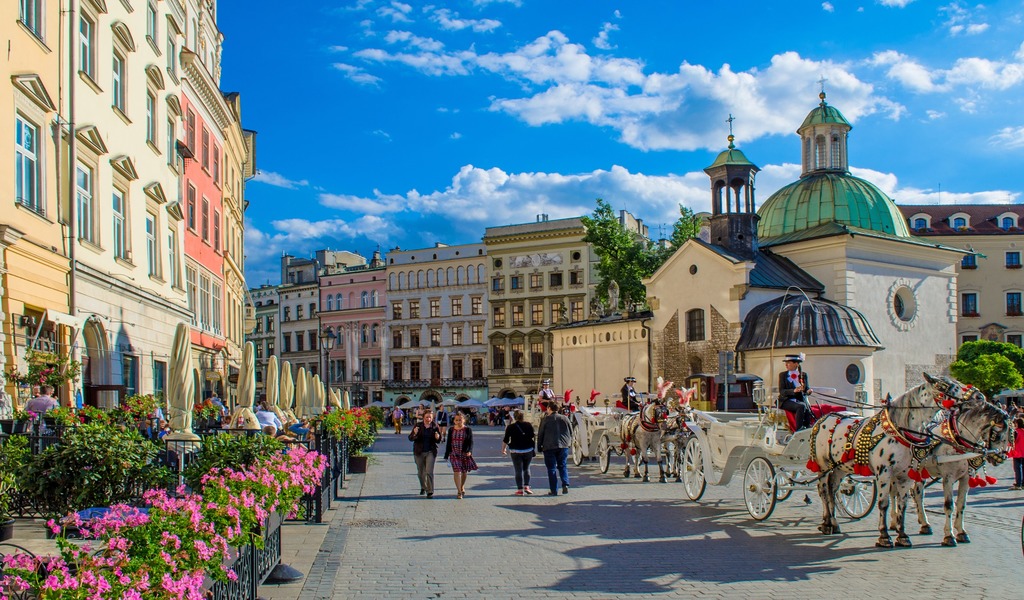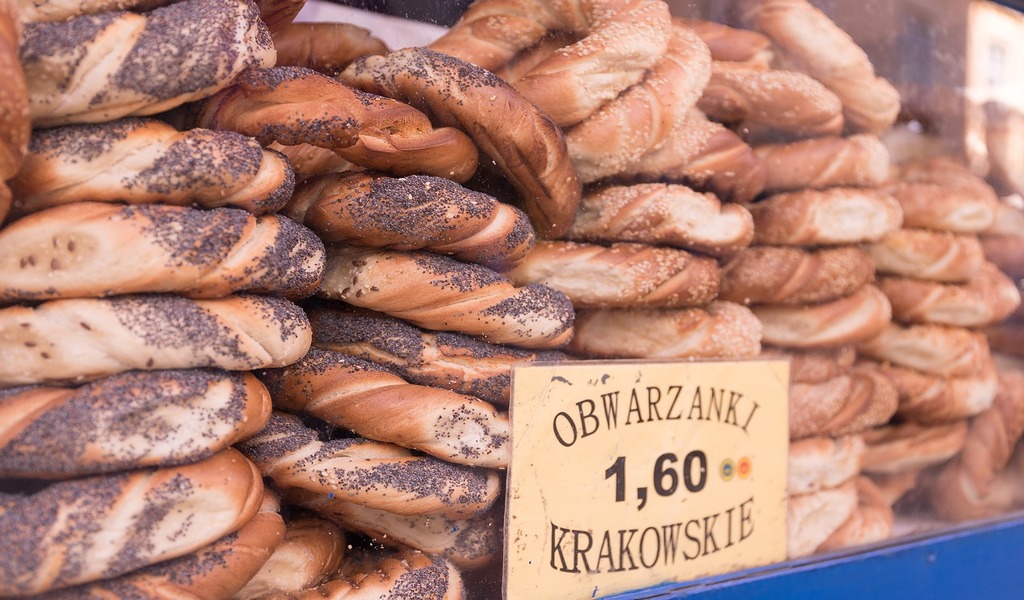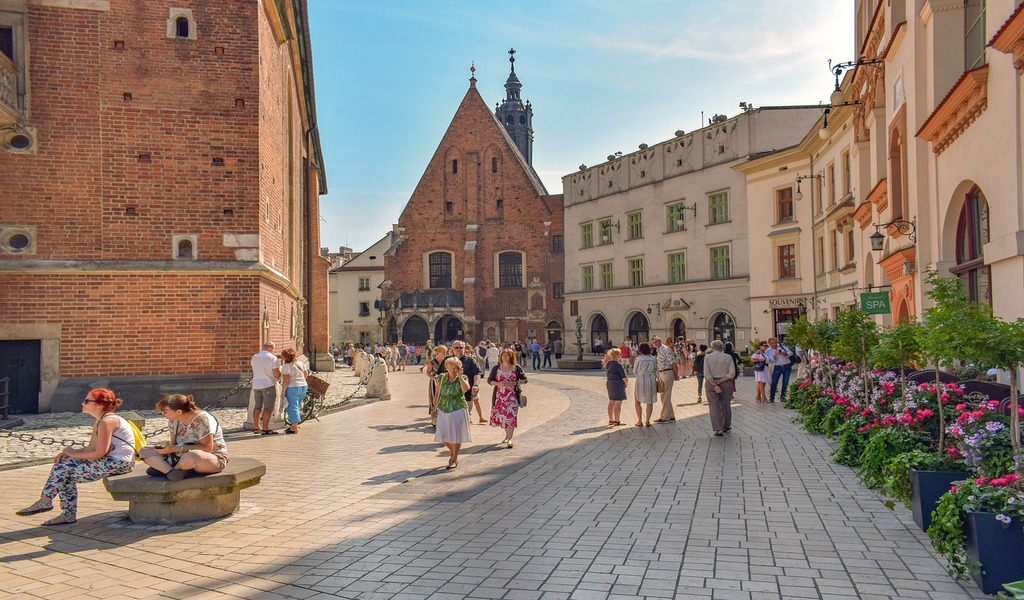 Top Reasons to Visit Krakow
---

Krakow's Impressive Architecture

---

Krakow's History

---

Krakow's Value & Delicious Food
Krakow's Impressive Architecture
Rynek Główny & Krakow Old Town: Did you know that Rynek Główny is the largest city square in Europe? Situated in the old UNESCO World Heritage town, its stunning architecture, small cobblestone streets, and cute cafes are absolutely worth exploring.
Kazimierz – Jewish Quarter of Krakow: A short stroll away from the Old Town, Kazimierz has a whole different atmosphere. With aged facades and exposed bricks, this neighbourhood features a mixture of the industrial and Gothic style. It's one of the best locations in the city for a night out.
Wawel Royal Castle: Located on top of the Wawel hill, this castle features one of the best views of the city, especially from the bell tower. The castle is one of the most important cultural sites in Poland. The indoor museum is also a good spot for a rainy day.
It's all about churches: Like many cities, Krakow has some amazing churches to visit, including the colourful St. Francis Basilica, to the St. Mary's Basilica, and the St. Joseph Church. They're not only iconic photography spots, but also feature incredible art on the inside.
Learn about the History of World War II: Krakow is an important city to explore the many historic sites involved in the Second World War. The Nowa Hut district in Krakow was built by the Soviets after the war, Oskar Schindler's factory has been transformed into a museum, and, of course, the Auschwitz Concentration Camp is only a short train ride away.
Salt Mines Wieliczka (UNESCO World Heritage): The oldest continuously used salt mines in the world are located just outside Krakow. Over a hundred metres below the surface you will find an impressive cavernous mine where you can take a 3-kilometre tour through the corridors, chapels, statues, and even an underground lake.
Following the traces of Pope John Paul II: Wander around the city and see if you can spot all the monuments, museums and tributes that are dedicated to Pope John Paul the Second. The Wawel Cathedral, for example, marks where he performed his first mass.
Krakow's Value & Delicious Food
Value for money: One of the best reasons to visit Krakow is how much value you will get for what you spend. The prices in this city are overall very reasonable. For example, a pint just costs averagely €1.47 (compared to Ireland at €4.50).
Polish food: Did you know that the original Jewish bagel comes from Poland? Other Polish delicacies that should be on your to-eat list are savoury and sweet Pierogis (filled dumplings), Kielbasa (polish sausages), or zapiekanka (baguette pizza).
---
Krakow Airport Transfers & Weather
Airport: Kraków John Paul II International Airport
BUS
You can get line 208 or 252 from near the passenger terminal, which departs approx. every 30-60mins. It takes approx. 45mins and costs €1 per journey.
TRAIN
You can get the near the passenger terminal to Krakow Main Train Station. Departing every 30mins, it takes approx. 20mins and costs €2 per journey.
PRIVATE TRANSFER
You can also get your own private transfer which takes approx. 40mins and costs approx. €20pp return based on 2 people sharing.
* Prices and times for transport from the airport are subject to change
Average temperature
| | | | | | | | | | | | | |
| --- | --- | --- | --- | --- | --- | --- | --- | --- | --- | --- | --- | --- |
| | Jan | Feb | Mar | Apr | May | Jun | Jul | Aug | Sep | Oct | Nov | Dec |
| | J | F | M | A | M | J | J | A | S | O | N | D |
| high | 0 | 1 | 7 | 12 | 20 | 22 | 25 | 24 | 19 | 13 | 5 | 2 |
| low | -5 | -5 | 0 | 3 | 8 | 11 | 12 | 12 | 9 | 5 | 0 | -3 |
---
Top Tourist Attractions in Krakow
---