Wroclaw City Breaks from Ireland with FlyShannon
Wroclaw, Poland's fourth-largest city, is where you will find a colourful mixture of culture, entertainment, nightlife and idyllic Gothic architecture.
Having been under the rule of Bohemian administration, the Habsburgs, Prussia and being converted into a fortified military compound during WW2 by the Germans who called the city "Breslau", it is no surprise the amount of attractions Wroclaw has to offer tourists.
Its unique architectural makeup includes its incredible market square Rynek, an entire Cathedral Island, Plac Solny, the Ossolineum, Partisan Hill and the Royal Palace. Flower markets, gnome hunting, concerts, shopping and a laid back yet vibrant atmosphere are just a fraction of what a Wroclaw city break has to offer.
There is no shortage of things to do in Wroclaw with its extensive festival calendar, contemporary art displays, music clubs and beer gardens. The Botanical and Japanese Gardens are popular amongst locals and the Partynice Racecourse and Adrenalina Park make for fantastic days out.
The Municipal Swimming Pools and the Water Park are hidden gems and football fans have the chance to see one of Poland's biggest clubs - Slask Wroclaw.
Shopping lovers are also in their element with an abundance of options to choose from. Upmarket boutiques can be found along the Odrzanska, Kielbasnicza and Mikolaja streets, artisan galleries in Jatki and tiny, souvenir shops underneath the Town Hall. Modern shopping malls with big international labels are plentiful throughout Wroclaw and Magnolia Park is the city's largest consumer temple – a must see!
Christmas markets in Wroclaw are very much alive each year and the panoramic views and gothic buildings provide a magical backdrop for that festive feeling. ClickandGo offers flights to Wroclaw and accommodation with a vast array of hotel properties to choose from.
---
Did you know...?
In its thousand-year history, Wroclaw has been part of Germany, Austria, the Czech Republic, and Poland
Wroclaw was named "European Capital of Culture in 2016"
There are miniature dwarf statues scattered all around the city, and each one has its own name and is referenced in their own website.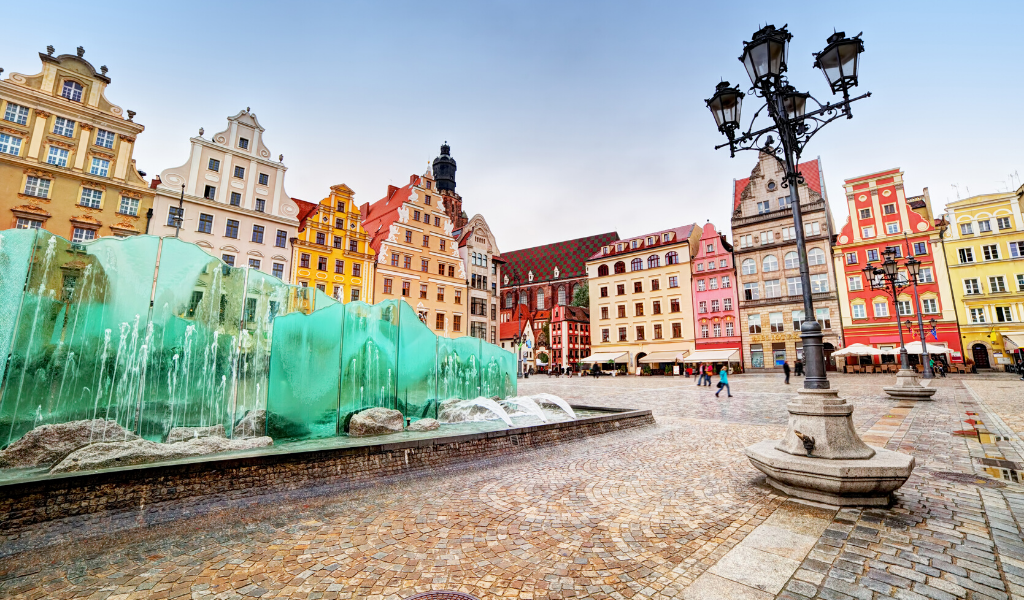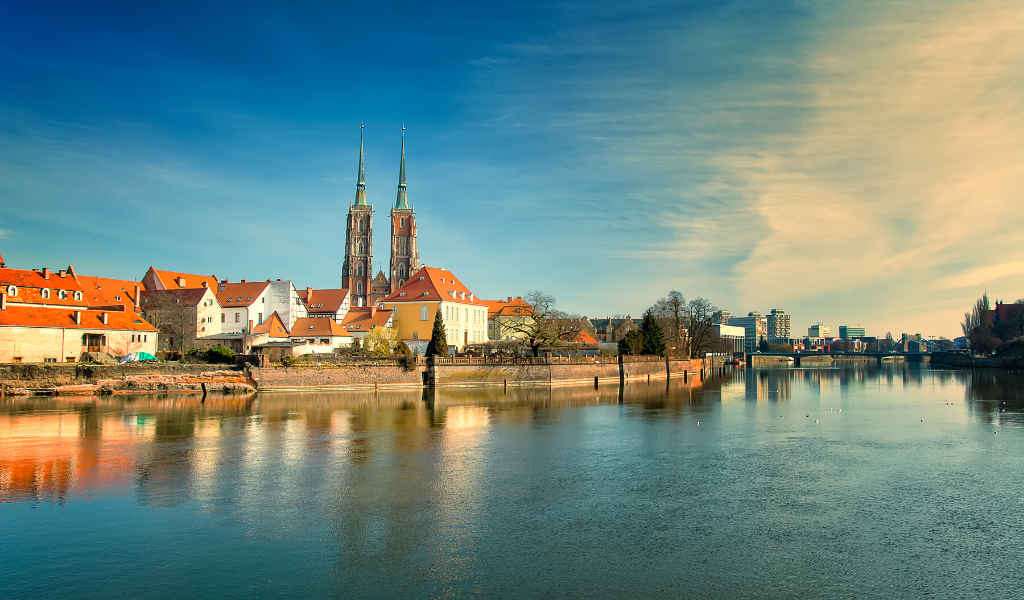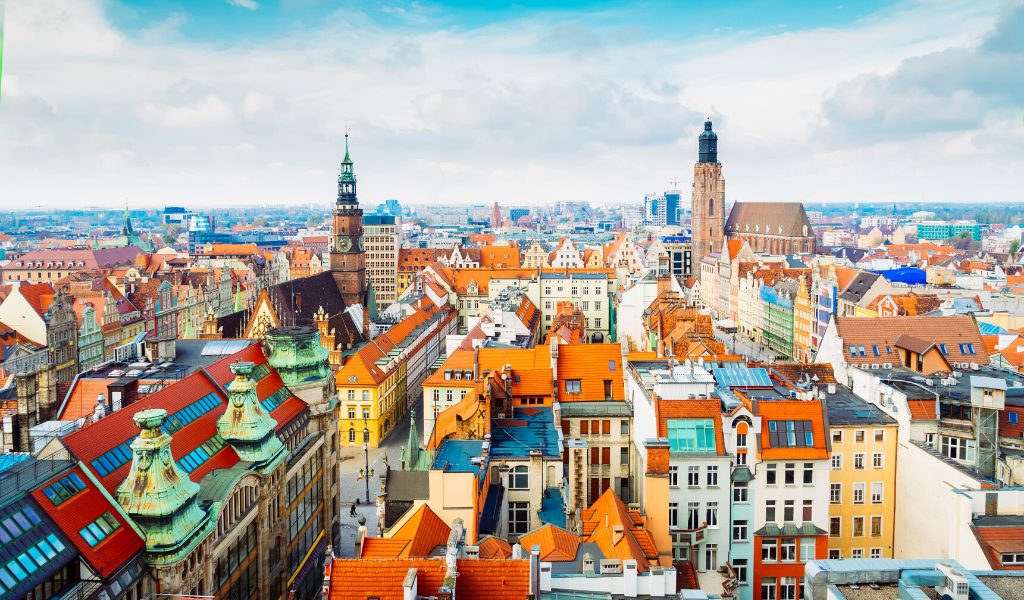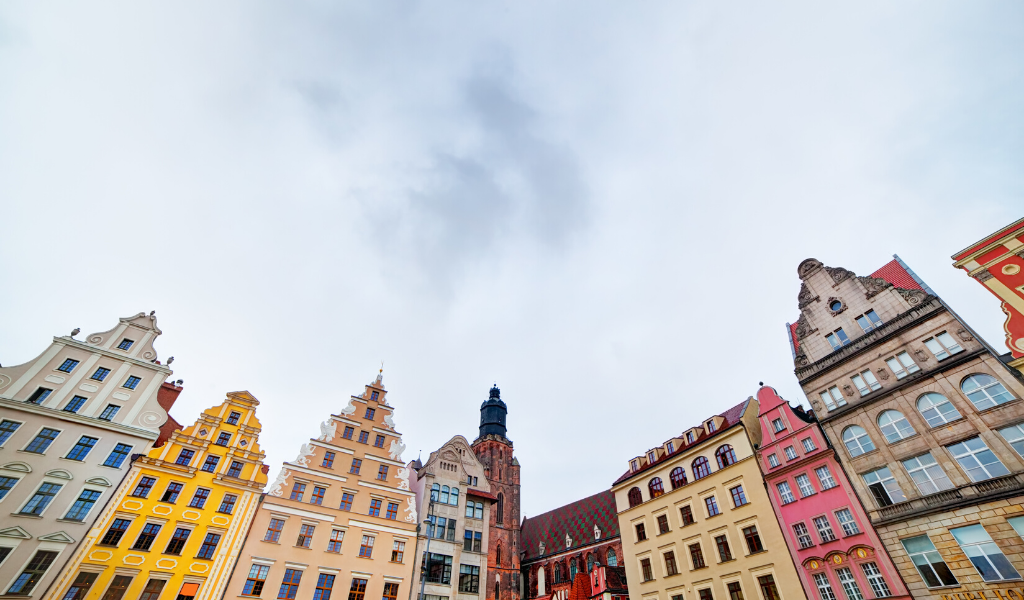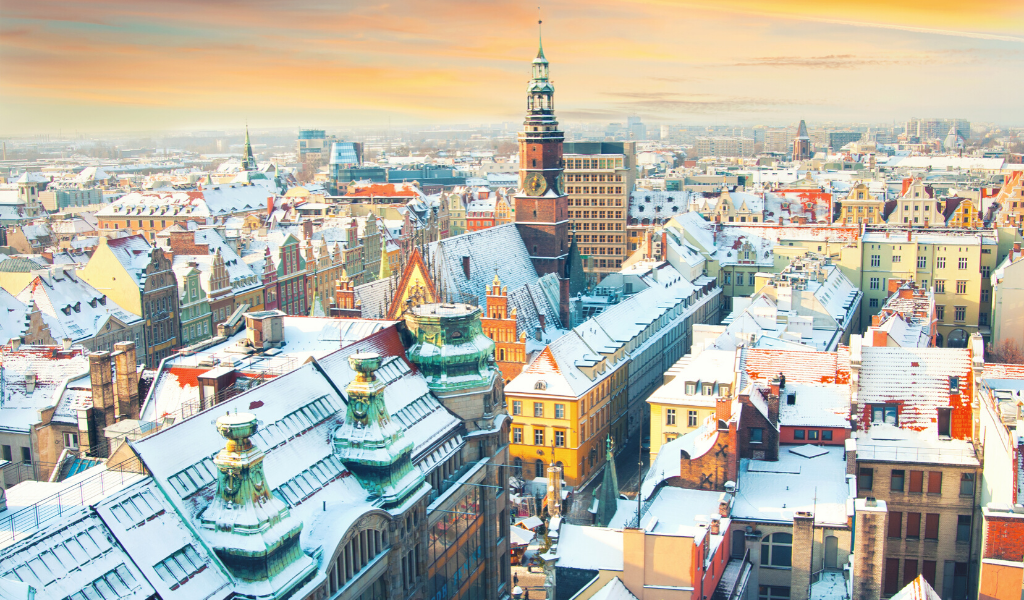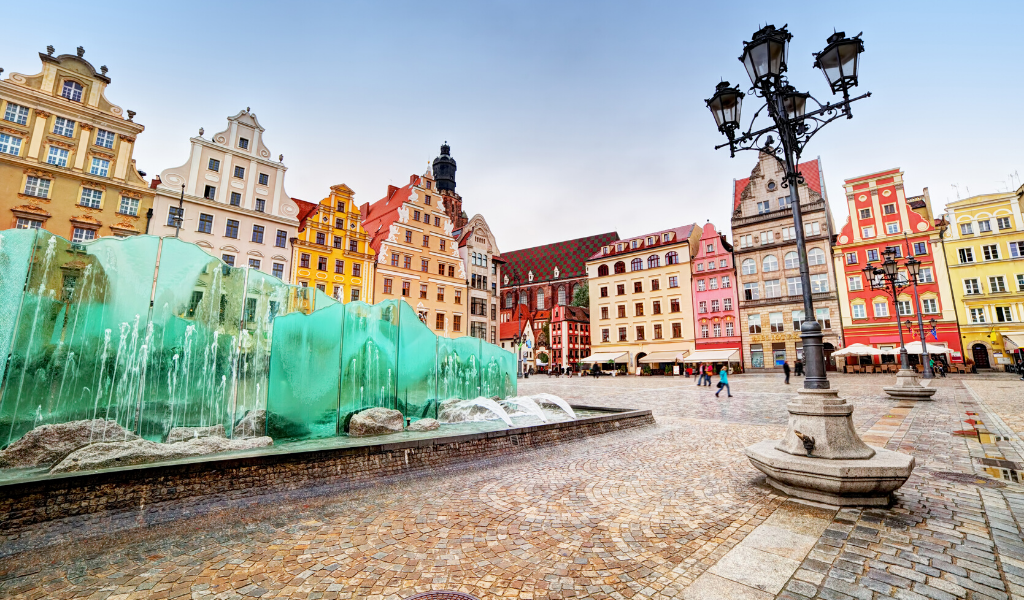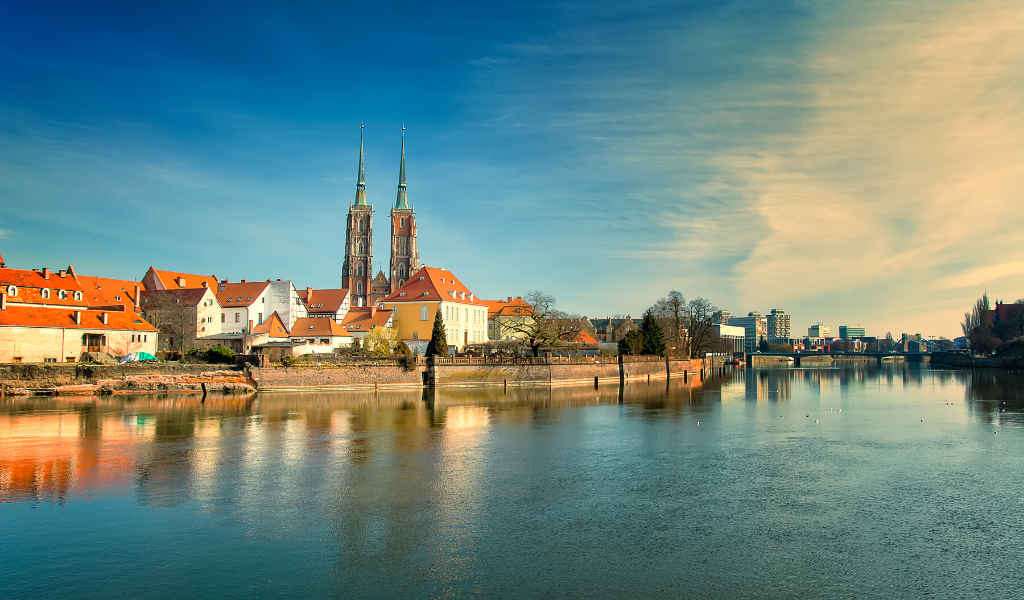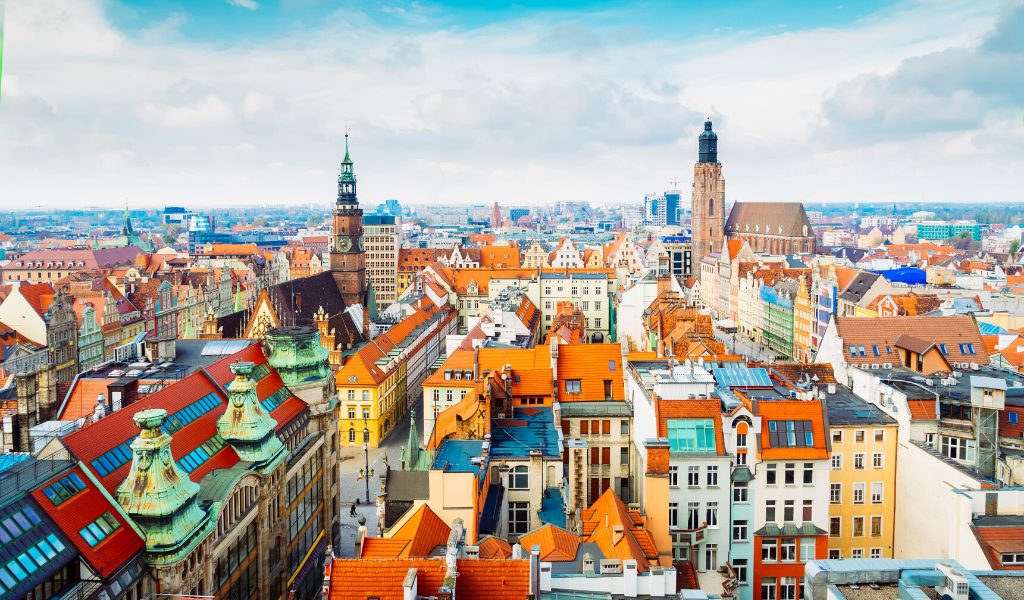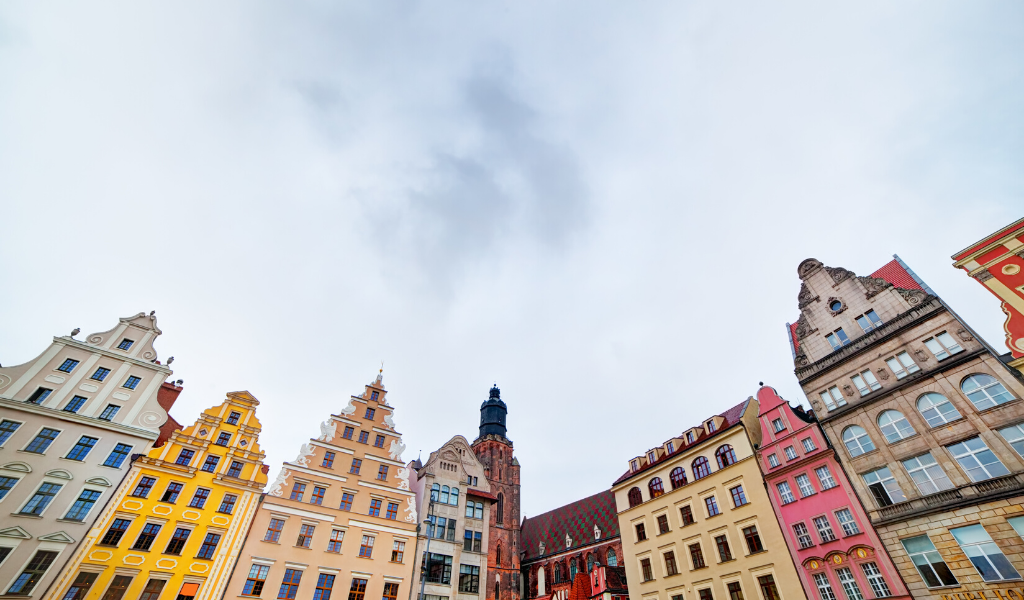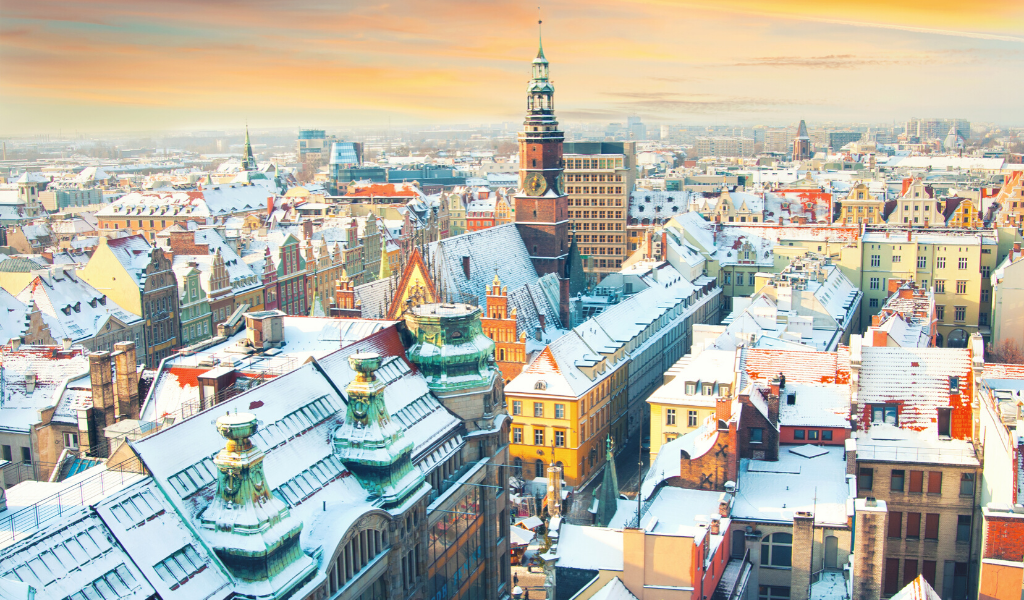 Top Reasons to Visit Wroclaw
---

Stunning Architecture

---

Unique City Sights

---

Wroclaw's Family Fun
Cathedral of St. John the Baptist: This spectacular gothic cathedral is one of Wroclaw's most recognisable landmarks. Completed in the year 1272, it still remains the seat of the Roman Catholic Archdiocese of Wrocław. This cathedral houses the largest pipe organ in Poland!
Market Square: Wroclaw's main Market Square survives from medieval times and is one of the largest market squares in Europe. With its cobblestone pedestrian area and beautiful preserved buildings, the market square is an essential part of experiencing Wroclaw's culture.
Centennial Hall: An incredible feat of design, Centennial Hall was constructed in 1913 when Poland was still a part of the German Empire. The structure is made of reinforced concrete and can hold up to 10,000 people. It is a massive sports and entertainment venue and definitely worth checking out while you're in the city.
Ostrów Tumski: As the oldest part of the city, Ostrów Tumski is visually remarkable and historically significant. Here you'll find some of the oldest buildings in Wroclaw, such as the Cathedral of St. John the Baptist and Archdiocese Museum, the longest-running museum in the city.
The Multimedia Fountain; Located in Szczytnicki Park near the Centennial Hall, Wroclaw's huge Multimedia Fountain hosts stunning displays of light and colour with shows every hour, every day. The fountain contains 300 water jets and 800 lights, and shows vary in length and style of music. On special night shows, there are even films and animations projected onto the water!
Panorama Racławicka: This colossal panoramic painting depicts the Battle of Racławice, one of many uprisings for Polish independence from Germany. The painting is held inside a purpose-built structure within Park Juliusza Słowackiego for a viewing experience unlike any other.
The Monument of an Anonymous Passer-by: This distinctive sculpture depicts 14 people disappearing into the ground on Swidnicka Street and appearing on the other side. The statues are meant to represent the lives lost and the people missing during the period of martial law in Poland in the 1980's, and is now a must-see in Wroclaw.
Tumski Bridge: The Tumski Bridge connects Piaskowa Island and Ostrów Tumski and is a popular spot for lovers to visit. It is a tradition to attach padlocks to the bridge and throw the keys into the Oder River for good luck.
Wroclaw Dwarves: These small dwarf figurines first appeared in the city in 2005. Since then, more and more have shown up, and it is now considered a fun tourist activity to try and spot as many as you can while visiting Wroclaw. There are over 350 little statues in the city!
Aquapark Wroclaw: As one of Europe's best waterparks and largest sports and recreation facility in Poland, Aquapark Wroclaw promises fun for the whole family. With both indoor and outdoor elements, this waterpark can be enjoyed any time of year, and is a great addition to a holiday in Wroclaw.
Hydropolis: Hydropolis, literally meaning "city of water," is a fascinating science museum dedicated to water. Its many exhibitions utilise different technologies to explore water's role in the environment, humanity's relationship to water, and the history of that relationship. With its high-tech displays, children's area, and workshops, this versatile museum is ideal for people of all ages.
Museum of Games and Computers of the Past Era (Games Museum): For something totally unique and off the beaten track, check out the Games Museum in Wroclaw! This interactive museum features 20 consoles, computers, and arcade games as well as 200 machines and toys from the '70's-'90's. Adults will love the nostalgia while kids can enjoy playing a variety of different types of games.
---
Wroclaw Airport Transfers & Weather
Airport: Wroclaw Nicolaus Copernicus Airport (WRO)
SHARED SHUTTLE
You can get a shared shuttle from Wroclaw Nicolaus Copernicus Airport to your accommodation. This a coach transfer with multiple stops en route to your accommodation. It's the cheapest but slowest option.
PRIVATE TRANSFER
The fastest and most direct option, though slightly more expensive, is a private transfer. This is a private vehicle just for you and the people travelling with you. There are no stops and no waiting at the airport.
Average temperature
| | | | | | | | | | | | | |
| --- | --- | --- | --- | --- | --- | --- | --- | --- | --- | --- | --- | --- |
| | Jan | Feb | Mar | Apr | May | Jun | Jul | Aug | Sep | Oct | Nov | Dec |
| | J | F | M | A | M | J | J | A | S | O | N | D |
| high | 3 | 4 | 9 | 14 | 20 | 23 | 25 | 25 | 20 | 14 | 8 | 4 |
| low | -5 | -4 | -1 | 3 | 7 | 11 | 13 | 12 | 8 | 4 | 0 | -3 |
---