City breaks to New York
New York, New York. The Big Apple. The city that never sleeps. There's a reason this concrete jungle tops people's travels lists and why the Irish visit it in their tens of thousands every year.
Made up of five boroughs - the Bronx, Brooklyn, Queens, Staten Island and Manhattan - New York is the most densely populated city in the USA. It's a city that's alive with things to do, see, eat and experience.
Its skyline is instantly recognisable with landmarks such as the Empire State Building, the delightful art deco Chrysler Building, One World Trade Center and the Rockefeller Centre. Whether you want to hit the main tourist attractions, visit key locations from your favourite tv shows and movies or try and live like a New Yorker for a few days, there really is something for everyone.
---
Did you know...?
The first pizzeria in the United States opened in New York in 1895
New York Public Library, the 3rd largest in the world, has over 50 million books
With 800 languages, NYC is the most linguistically diverse city in the world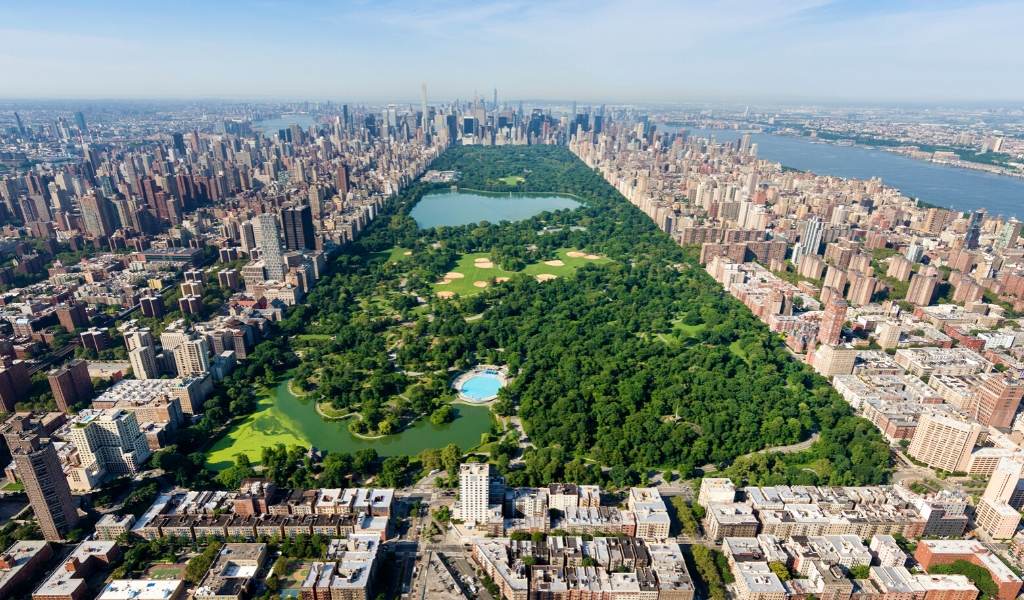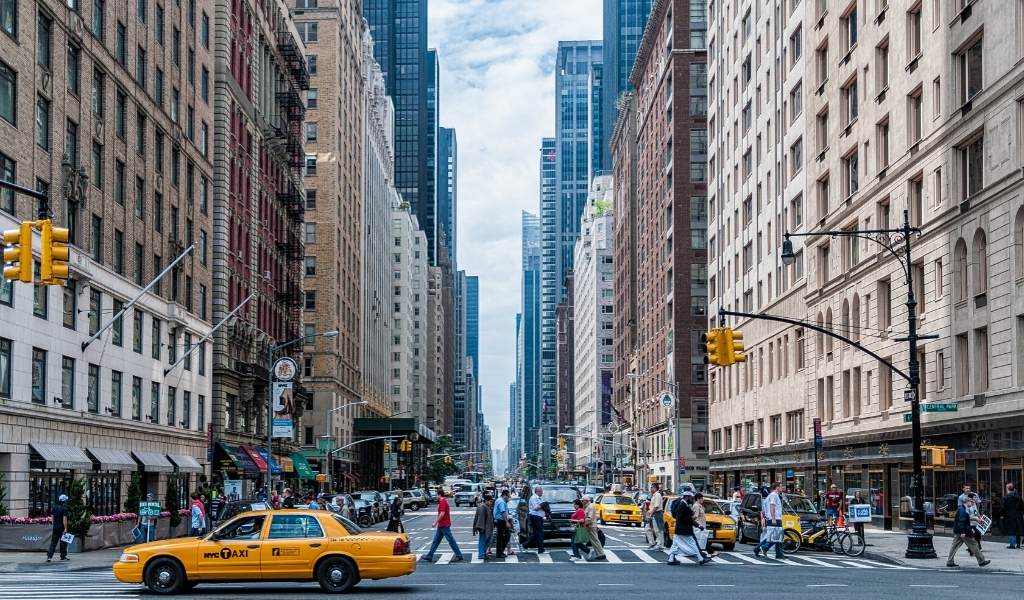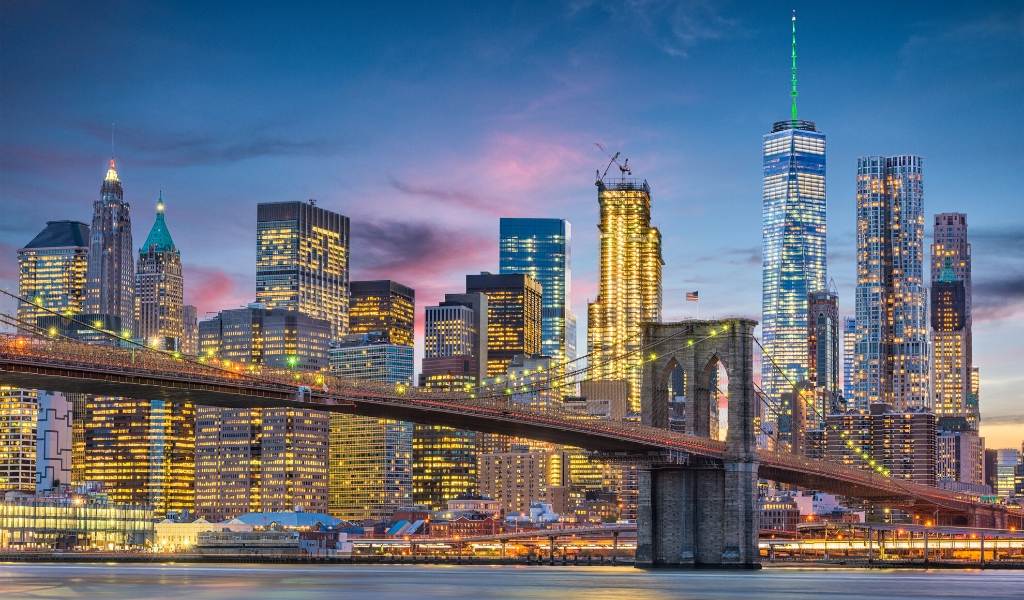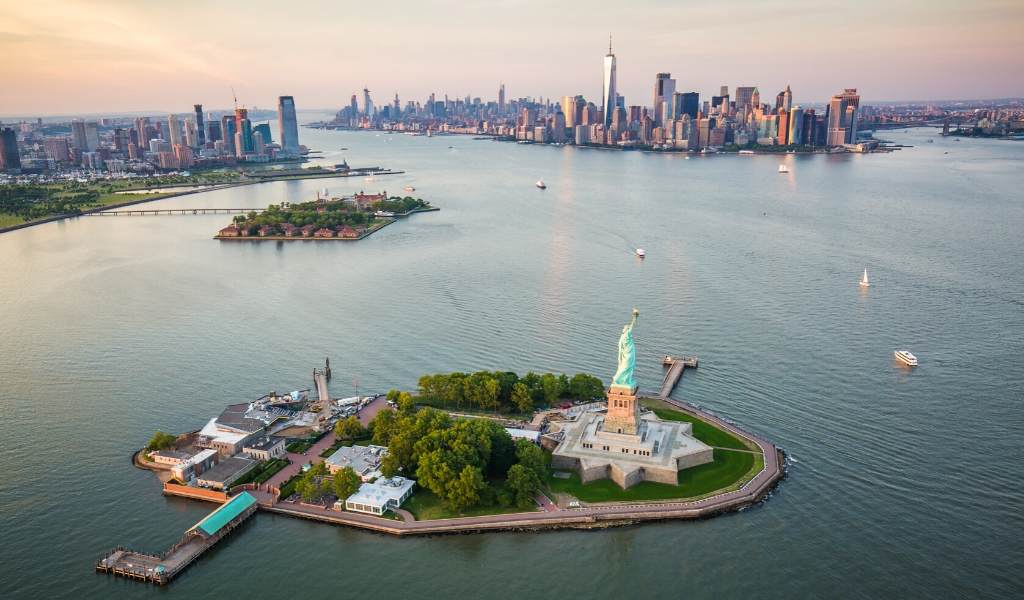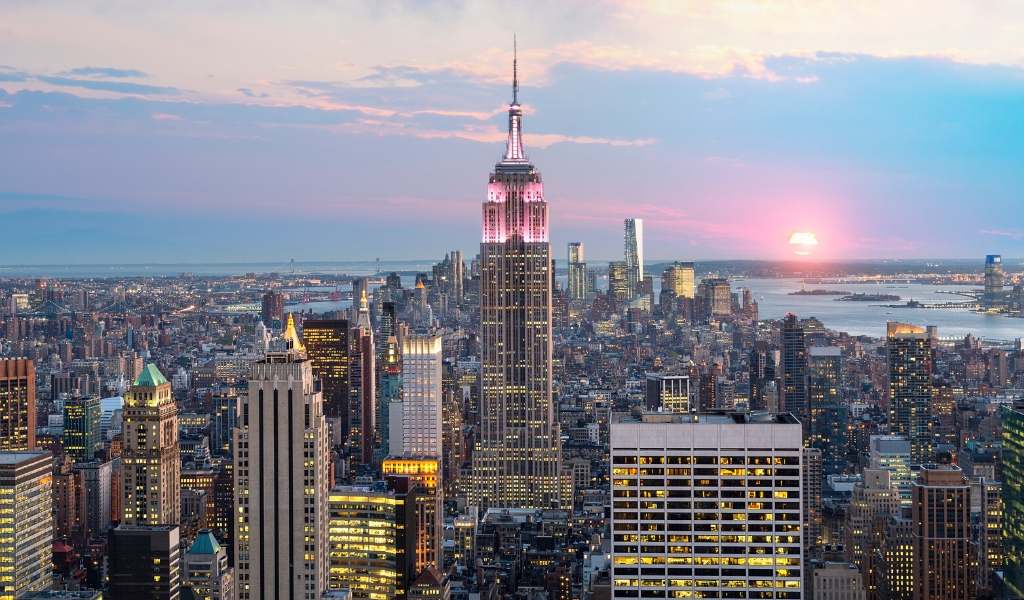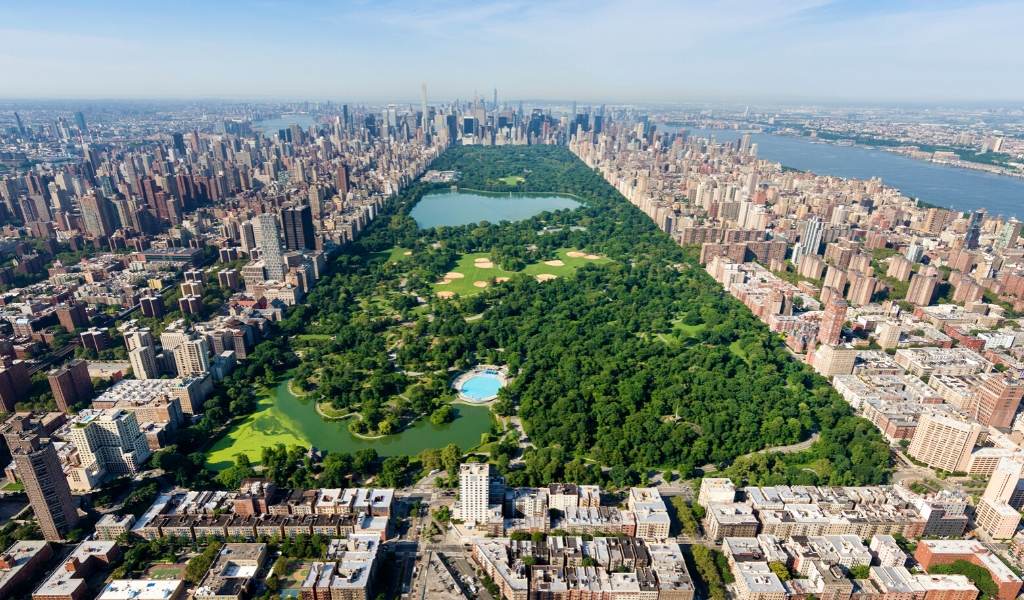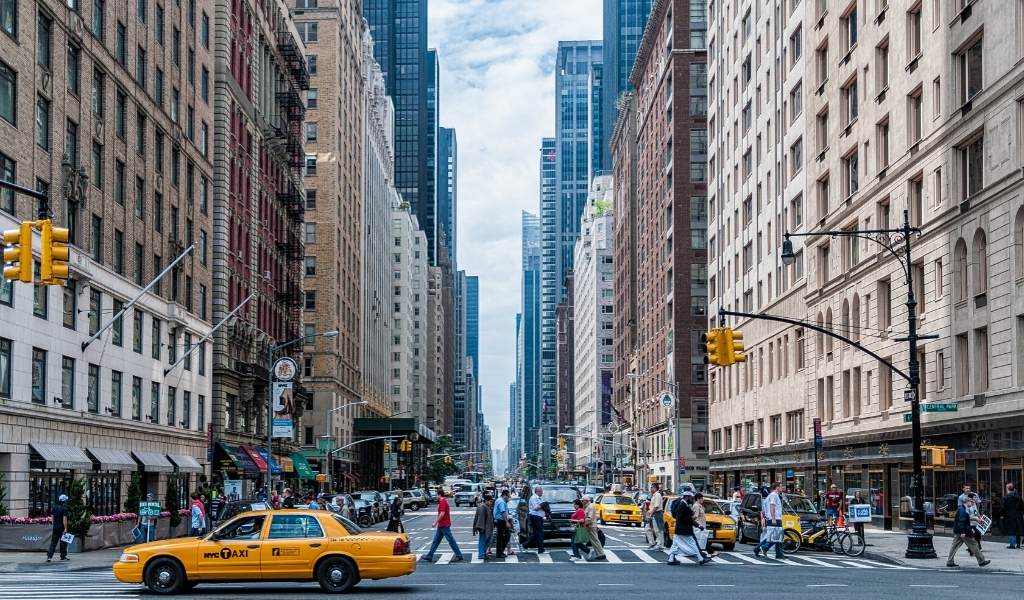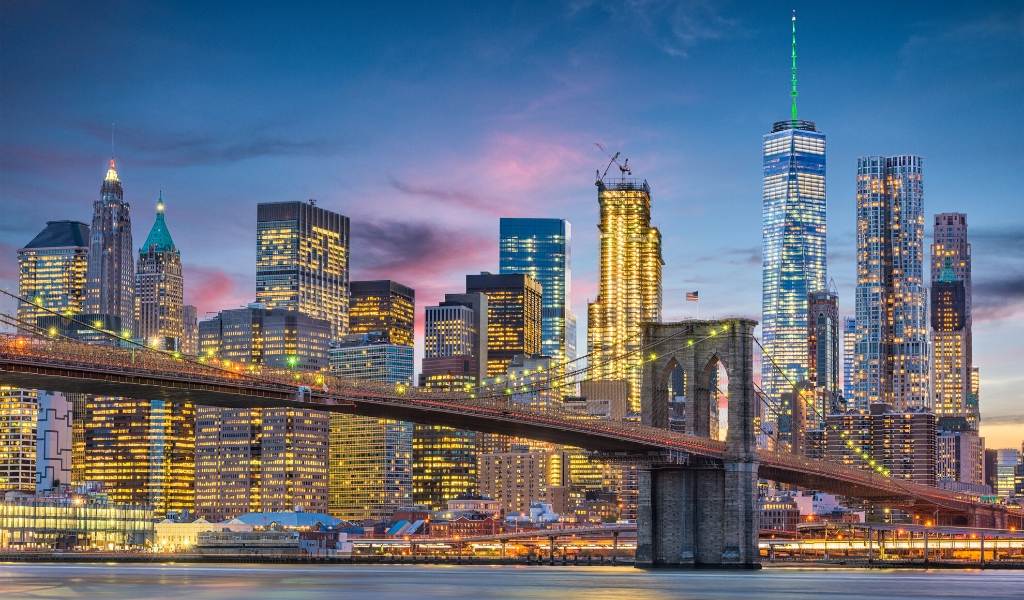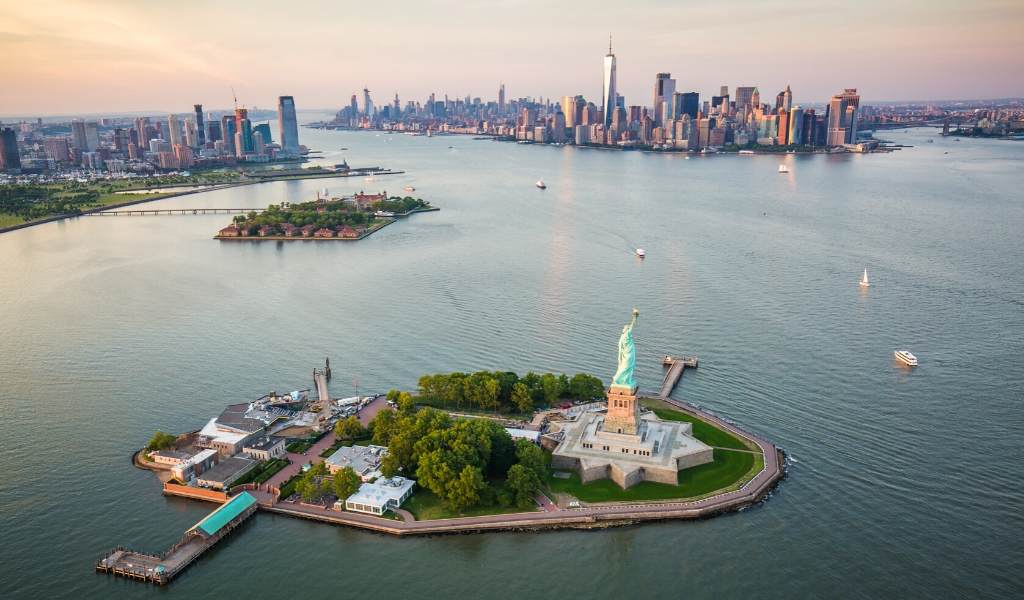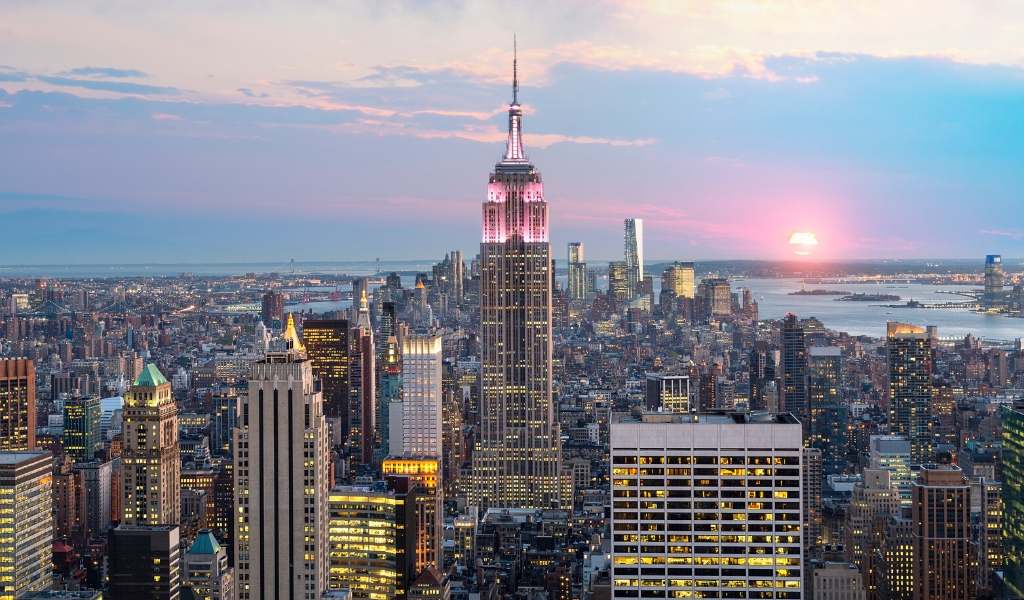 Top Reasons to Visit New York
---

The Icons of New York

---

Broadway to Baseball

---

Museums & Galleries
The Views: With so many skyscrapers, you can get amazing views of the Concrete Jungle. Our top pick is 'Top of the Rock' at Rockefeller Centre as you get brilliant views of the Empire State Building.
Statue of Liberty: The Statue of Liberty since 1885 icon of freedom and of the United States and was a welcoming sight to immigrants arriving by sea. You can visit the grounds, go to the pedestal or the crown and visit the Statue of Liberty Museum and Ellis Island National Museum of Immigration. Or take the free ferry to Staten Island for views of it and Manhattan's skyline.
Brooklyn Bridge: Walking across the Brooklyn Bridge is a must-do. In fact, 4,000 pedestrians, and 2,600 cyclists cross it every day! Starting from Brooklyn, you'll get gorgeous views of the Manhattan skyline.
The High Line: The High Line has become a hugely popular way to experience Manhattan. From Ganesvoort & Washington Street to 36th Street & 12th Avenue, this re-imagined elevated railway track is a great way to see the city from above the hustle and bustle.
Broadway: Broadway is home to 41 theatres, attended by nearly 15 million people during the 2018-2019 season. Here you can find amazing shows like Hamilton, Book of Mormon, Lion King & West Side Story.
Off Broadway: Off Broadway shows can seat 100-500 people. Here you'll find some smaller, and often more quirky, shows like Blue Man Group, Drunk Shakespeare and Little Shop of Horrors.
Madison Square Gardens: This is the home of basketball, hockey and WWE in New York. It also hosts concerts, award shows, graduations and, every February, Westminster Kennel Club Dog Show. Billy Joel has performed there a whopping 100 times over his career!
Baseball: Whether you're a fan of the Yankees or the Mets, taking in a baseball game is a real New York experience.The Yankees are based in the Bronx and the Mets in Queens. You catch a game from late March to early October.
Basketball: The Knicks are the best known New York basketball team and compete in the NBA. If you want to see them in action, the basketball team runs from October to April.
Hockey: Ice hockey is another huge sport in the States. The Rangers are New York's team. An evening at an ice hockey game is entertaining for sure. You can experience this fast paced sport from October to April.
Solomon R. Guggenheim: The Guggenheim Museum is home to contemporary and modern collections of art. It's a designated New York City Landmark and a UNESCO World Heritage Site. Designed to be a "temple of the spirit", as you walk up its ramp, you can pause to really appreciate the modern art on display.
The Metropolitan Museum of Art (MET): The MET, venue for the iconic MET Ball, boasts over 5,000 years of art from around the world. You can easily spend a full day exploring its exhibitions from 'In Pursuit of Fashion' to Dutch Masterpieces.
9/11 Memorial: 9/11 is a moment in history that was felt around the world. A sombre experience, this is a must on your visit to New York. You hear the stories and get an in-depth understanding of the sheer scale that day had on New York, the USA and the world.
Tenement Museum: When Irish emmigrants arrived in New York in the 1800s and early 1900s, the vast majority ended up living in tenements. This museum will show you what it was like to live in a tenement and share real stories from families who lived there.
---
New York Airport Transfers & Weather
AIRPORT
Newark Airport & JFK Airport
JFK Airport Transfers
If travelling from JFK Airport, you can get the AirTrain to Penn Station for approx. $7.75 or a taxi to Manhattan for a flat fare of $52 (excl. tolls and tips).
Newark Airport Transfers
If travelling from Newark Airport, you can also get the AirTrain Train to Penn Station for approx. $5.50 or a taxi to Manhattan for $50 to $70, depending on where your hotel is.
* Prices and times for transport from the airport are subject to change
Average temperature
| | | | | | | | | | | | | |
| --- | --- | --- | --- | --- | --- | --- | --- | --- | --- | --- | --- | --- |
| | Jan | Feb | Mar | Apr | May | Jun | Jul | Aug | Sep | Oct | Nov | Dec |
| | J | F | M | A | M | J | J | A | S | O | N | D |
| high | 6 | 7 | 9 | 16 | 20 | 27 | 29 | 28 | 24 | 18 | 12 | 13 |
| low | -3 | -3 | 1 | 6 | 12 | 17 | 20 | 20 | 16 | 10 | 5 | 4 |
---
---
---